Tori no Tatsutaage
Japanese Fried Karāge Chicken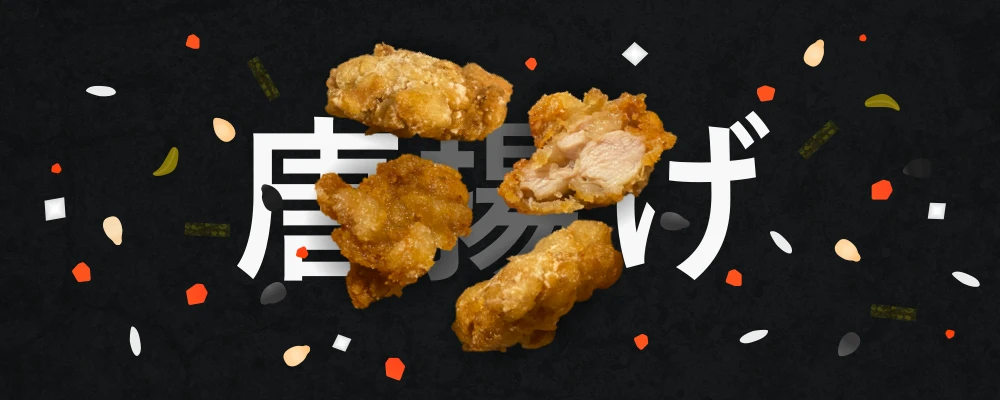 Tatsutaage is a type of Japanese fried chicken or karāge. Marinated before being coated in starch, the chicken is incredibly juicy, whilst still having a great crunch. 💯
📝

Ingredients
450

g

Chicken Thighs

3

Tbsp

Light Soy

1

Tbsp

Mirin

2

Tbsp

Sake

or

2

Tbsp

Shaoxing

1

Tsp

Sesame Oil

1

Tbsp

Ginger

- minced

1

Tbsp

Garlic

- minced

Cornflour

Vegetable Oil

- for frying
🌊

Marinade
Remove the bones from the

450

g

chicken

, and cut the flesh into thumb sized pieces; leaving the skin on
Puncture the

450

g

chicken

multiple times with a sharp knife, to allow the marinade to saturate the meat
Create the marinade by combining

3

Tbsp

light soy

,

1

Tbsp

mirin

,

2

Tbsp

sake

,

1

Tsp

sesame oil

,

1

Tbsp

ginger

, and

1

Tbsp

garlic

in tall-sided container
Add the

450

g

chicken

to marinade, and leave to rest for

30

m
🍗

Coating
Generously coat the

450

g

chicken

in the

cornflour

Heat up the

oil

to

As the marinade soaks into the

cornflour

, dust with the excess to recoat the

450

g

chicken
In order to get a good crisp on the outside of the karāge, we'll fry the 450 g chicken 3 times. The first time, we'll use a lower temperature - - for a longer time - . This allows the heat to reach the inside of the meat. The 2nd and 3rd fries drive off more of the moisture (primarily from the outside), and crisp up the cornflour. We limit the duration here, and allow resting time for the internal temperature of the 450 g chicken to drop a bit, to avoid overcooking the 450 g chicken in the middle.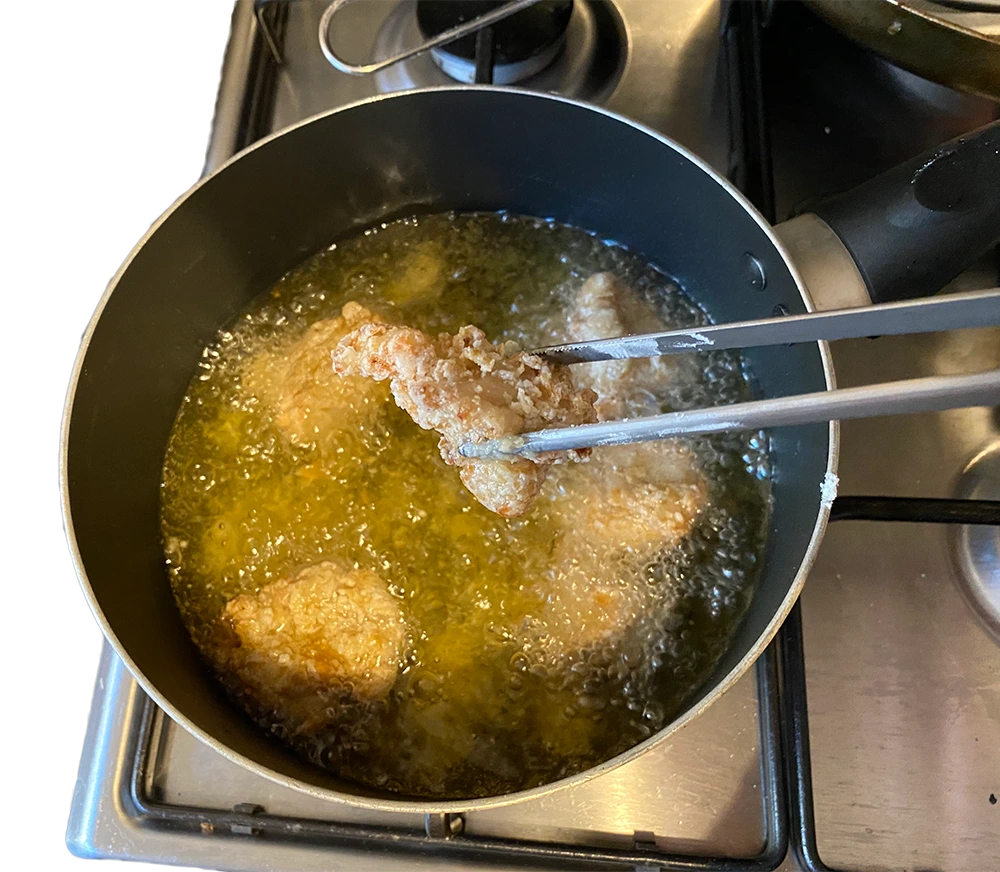 🍳

Fry
Fry in batches, according to the timings below.
Fry No.
Duration
Temp.
Rest
1

45

s

2

30

s

180

°C

45

s

3

30

s

180

°C

—
Remove the

450

g

chicken

from the oil to rest.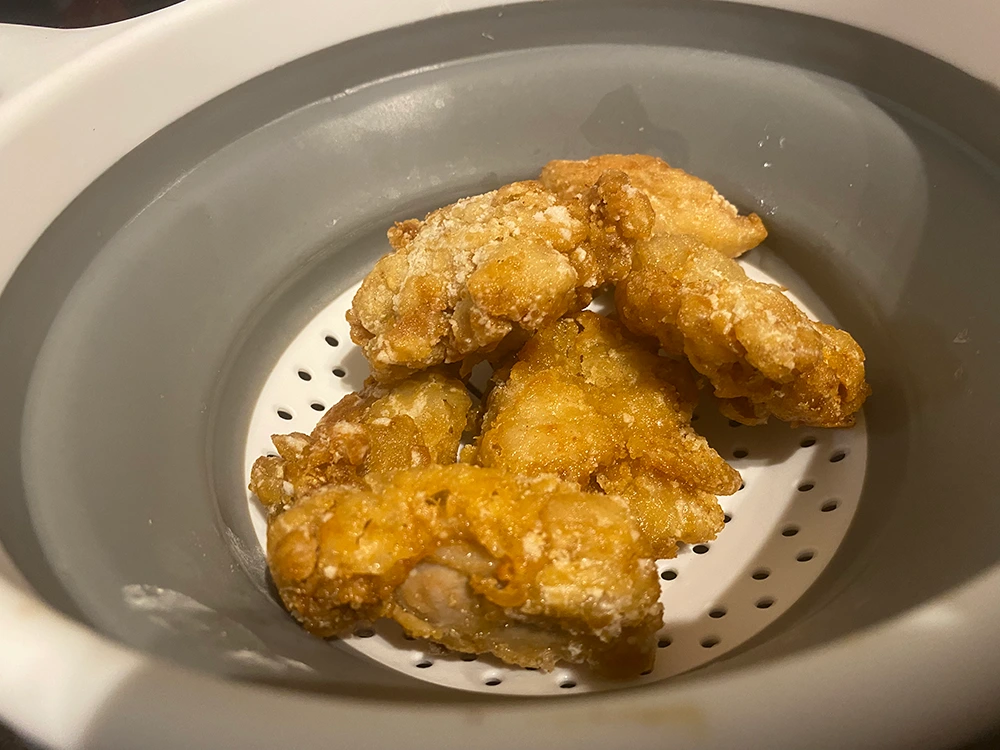 That's it! You should have yourself a plate of crispy juicy Japanese tatsutaage. Here I've served it with a pea, red onion, sesame, and spring onion slaw. Sprinkled with shichimi tōgarashi - although you can't see it 🤔.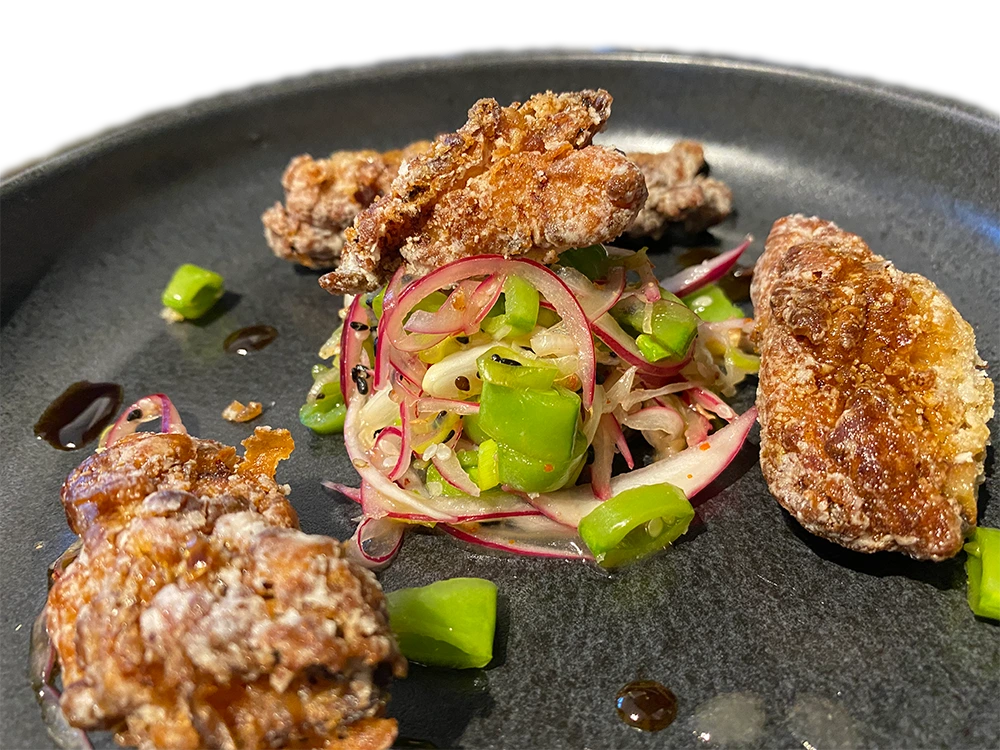 📖

https://www.oishi-washoku-recipes.com/chicken-tatsutaage-aka-karaage
https://www.youtube.com/watch?v=F77N-DBRvE4
https://uncutrecipes.com/EN-Recipes-Japanese/Tatsuta-age-Japanese-Fried-Chicken.html
https://www.japanesecooking101.com/chicken-tatsutaage-recipe/
https://www.masterclass.com/articles/tatsuta-age-recipe#what-is-tatsutaage